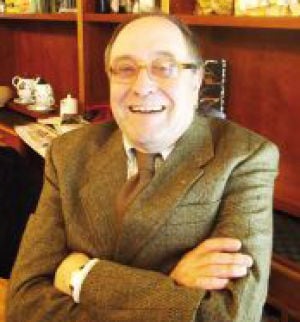 Robert Carl Nordvall, 73, formerly of Gettysburg, passed away January 2, 2014 in Pistoia, Italy. Born March 23,1940 in Oak Park, Illinois, he was the son of the late Stuart Nordvall and Carmella Craglione Nordvall.
He received a Bachelor's Degree in Philosophy from DePauw University in 1962. He was a member of the Sigma Chi fraternity and captain of the undefeated DePauw team on the television quiz show, "GE College Bowl." He received a J.D. in 1965 from Harvard Law School and an Ed.D. in Higher Education Administration from Indiana University in 1972. After practicing law in Chicago, Bob served as a college administrator at Frostburg State College. In 1972, he came to Gettysburg College where he held various positions including Dean of First Year Students and Associate Provost. Following his retirement in 2002, he decided to go in search of adventure and retired to Italy.
He is survived by his sons, Andrew Porter Nordvall, and wife, Sally Ngov, of Los Angeles and Christopher Stuart Nordvall and wife, Ann Powers-Nordvall, of Wiesbaden, Germany; and grandchildren, Athena and Zoe Ngov-Nordvall, and Connor David Powers-Nordvall; and first wife and grandparenting partner, Edie Larson, of Gettysburg.
He is also survived by his sisters, Carol Anderson, of Chicago, Illinois and Laura Robinson of Ft. Myers, Florida; nephews, Jeffrey Kerins of Chicago, David Robinson of Brooklyn, NY and John Robinson of Ft. Myers and niece, Terry Knight Kohlberger of West Palm Beach, Florida. 
There will be a Memorial Service at the Gettysburg College Chapel at a date and time to be announced.
Bob was a colorful character known for his wardrobe, wit and humor; he was involved in many organizations. In lieu of flowers, memorial contributions may be made to Pedals for Progress,

www.p4p.org

, or
Pennsylvanians for Alternatives to the Death Penalty,

www.padp.org

, or to a charity of your choice.
The following will be published in Italy for his many friends there:
Good-bye Bob! Friends and readers will miss Bob Nordvall
Bob Nordvall, a columnist for The Florentine passed away on January 2 in Pistoia, Italy. Especially appreciated for their caustic wit, Bob's columns and conversations always boasted a unique mix of insiders' advice and ex-pat perspective. Readers of his much-awaited newsletter 'This Week in Italy' were hard-pressed to find a more relevant up-to-the-minute publication capable of putting its finger on the pulse of Italian society. It was a composite of witty personal observation, ever-political intrigue and spot-on interjections from those he knew and loved. His work as a writer brings to mind a verse by Robert Browning: "Open my heart and you will see, grav'd inside of it, 'Italy'."
A native of Gettysburg, a father of two sons, a Harvard graduate and a once-upon-a-time lawyer, Bob was a 'networker' in the highest sense of the word, with a true talent for getting people together—for social activism or just plain fun. Bob was on a first name basis with the whole of Tuscany, especially Pistoia (where he had made his home since 2002), and Florence—the city he loved but was never sorry to leave at the end of the evening. A favorite Bob quote? 'Darlin', I know someone you've got to meet.' Bob, a forger of friendships and a true friend. The Italian memorial service for Robert Nordvall will be held at

4pm on Saturday January 18

at St. James Episcopal Church (Via Rucellai 9, Florence) with a reception to follow in the rectory next to the church. L.F.